Peace Love Earth jewelry is a division of
Annatarian, an Eco-Effective Design Company
.
Annatarian was founded in 2001 and is best known for its eco-couture collections which have been featured at the Los Angeles Natural History Museum, the Sundance Film Festival. Annatarian was one of only six businesses featured at the special screening of An Inconvenient Truth at the Los Angeles Grand Performances with special guest Al Gore.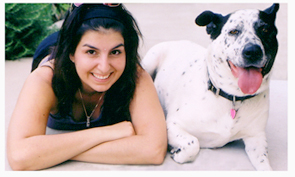 Founder Anna Leighton (pictured at left with her beloved friend and companion Happy) believes it is her responsibility as an artist, designer, and woman to promote positive change, embrace and create beauty, and always seek truth.
The Peace Love Earth jewelry line was launched in 2007 and was inspired by a desire to provoke thought about these three words: PEACE, LOVE, and EARTH.
We are a reflection of thoughts and actions.
Scientific experiments done by Masura Emoto of Japan, showed that words, thoughts, and feelings actually change the molecular structure of water. When words like thank you, and love were written on a container of water, the water formed beautiful structures, and the reverse happened with negative words. We are made of mostly water, and so is the earth. The same was done with thoughts, music, and prayers.
What we "write" on ourselves, think about ourselves, and think about others makes all the difference.