Seven Wishes Charm Bracelets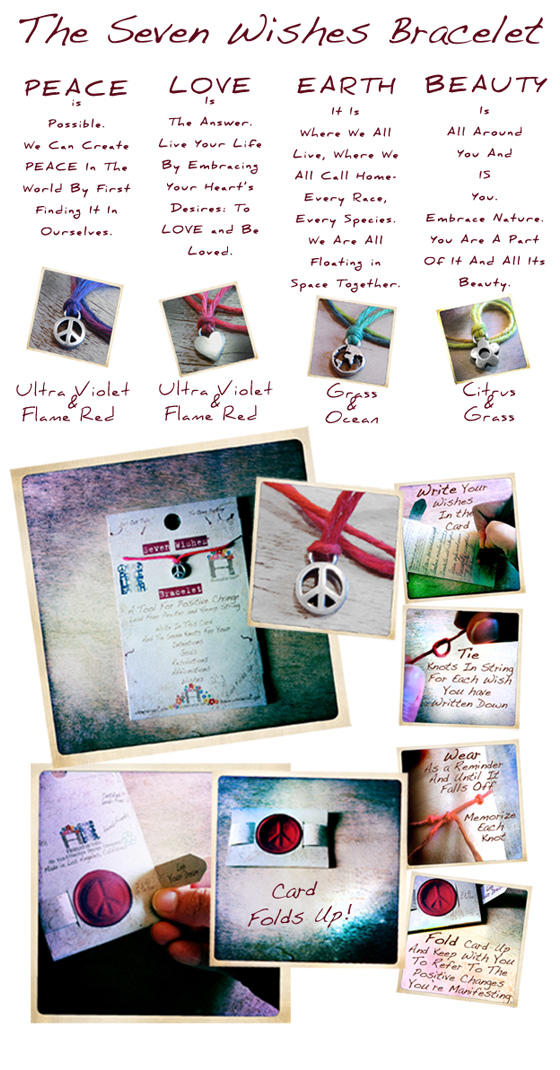 Video
Features
Who and How To Use them?
Couples for setting goals together - great bonding experience
Adults looking to set intentions to improve their life
Fashion statements
Friendship bracelets
Goal setting
Organizations using them as team building tools
Individuals and friends
Your Idea Here
What Are They?
It's a helpful tool, an interactive experience, and a fashion statement all in one bracelet
The charms represent Peace, Love, Earth and Beauty- We believe these are the most important things to focus on in life.
Colorful eco hemp string make each Seven Wishes Bracelet unique
High quality charms made from lead free recycled pewter
Unique eco packaging that folds up origami style, which makes them great to keep in your wallet and a nice ritual when opening them back up to read what you have written.
The knots on the string can be used like meditation beads, by rubbing each one and reminding yourself of what it represents.
What Makes Them Eco-Friendly?
Manufactured by Annatarian® Eco-Couture
Made from eco-friendly materials and packaging
Hand made in Los Angeles, California
How Can They Help?
They are Interactive, Inspiring, Intentional
Helps you manifest your Goals and Dreams- Positive Thoughts Equal Positive Outcomes- Nothing is Impossible!
Use it with your friends, family and at work as a unifying tool.
Part of the proceeds go to various eco, animal, and humanitarian charities.
Designed to Inspire Positive Change.
The Seven Wishes Bracelet® will Help You Be Your Best.
Remind Yourself of Your Goals and Dreams With The Help Of the Seven Wishes Bracelet®


Tweet