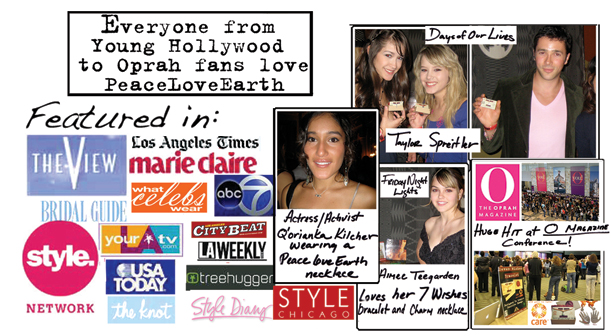 PeaceLoveEarth®: Seen in Magazines, Blogs, and on Television
The View as part of the Green Fashion Show
YourLA
Style Network: Shop Like A Star: Cinema Chic
ABC7 (Chicago) Morning News: Watch It Online
Book Room Reviews: Grade: A - "I have written down my prayers for the knots in my bracelet and every time I look at it I think of those prayers and honestly it is a wonderful reminder and peaceful feeling...the bracelets would be a terrific gift for anyone...They also make absolutely beautiful necklaces..."
SomeoneSpoilMe.com: "Annatarian® Recycled Silver "Earth" Seven Wishes Bracelet is the modern day genie in a bottle."
StyleChicago.com: "This is jewelry with a conscience. So what does that mean? The new Peace, Love and Earth jewelry line is designed to inspire positive change while remaining high fashion."
TreeHugger.com: & : "Designer Anna Mkhitarian reinvents that tired hippie standard-the ol' peace sign-into physical, wearable mantras that, though unsubtle, remind us what our groovy voyage on Spaceship Earth is all about."
Keetsa! Blog - Eco-Friendly and Green News: & : Keetsa calls the seven wishes bracelet "a great piece of eco friendly art, which can inspire a new generation."
Whatcelebswear.com: "Look great and feel great wearing these beautiful green lifestyle accessories!"
Girlawhirl.com: "...just the sort of thing that Girlawhirl, and almost every one she knows would love to wear."
StyleGoodies.com: "seriously gorgeous"
Marie Claire says: "It's a sleek pendant with hanging charms, perfect for a quirky finish to a little black dress or to chic up a t-shirt and jeans." (see the necklaces here)
Chic By Nature: Annatarian's® PeaceLoveEarth® Earth Pendant: "I love this pendant. It's sleek, elegant and earth friendly!"
LAStory.com: "The Seven Wishes Bracelet is a nifty little gift that is perfect for guy or girl— depending on the color of the string you choose. We *heart* her creations!!"
GreenUnion (UK) says of the Seven Wishes Bracelet: "The little charms, suspended on surplus string and presented in the gorgeous sealed boxes, make perfect favours or gifts for your bridesmaids."
PeaceLoveEarth® Jewelry has also been featured in Yogi Times, The LA Times' Emerald City, The Miami Herald ("New and Cool") and numerous other publications and Web sites.
Annatarian® Also Featured In...
Bridal Guide
,
USA Today's USAWeekend.com
,
IdealBite
,
Los Angeles City Beat
,
A.Refuge
,
LASplash.com
,
StyleDiary
,
LA Weekly
,
Hautenature.com
,
California Apparel News
,
White Apricot
,
Aromatherapy Thymes
,
East Bay Spaces
,
The Knot
,
Portovert
, and many more.